Enhance Your Space's Aesthetic: Our Superior Tile Cleaning Services In Newstead
Experience the fusion of Newstead's elegance and our commitment to pristine cleanliness. Our tile and grout cleaning Newstead services are meticulously designed to resonate with the distinctive character of this suburb. Whether preserving historical charm or amplifying modern spaces, our meticulous and effective cleaning techniques are crafted to bring out the innate beauty of your tiles and grout.
Our mission is to elevate the aesthetics and hygiene of your living and working spaces through our specialized cleaning solutions.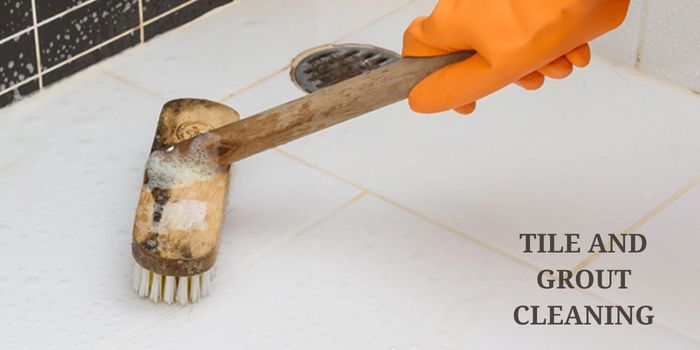 Why Tile Cleaning Should Not Be Ignored?
Tiles, though durable and visually appealing, require regular maintenance to preserve their beauty and functionality. Ignoring tile cleaning can lead to a host of issues that not only affect the aesthetics of your space but also pose potential health and safety risks. Here's why you should never overlook tile cleaning:
Prolonged Durability: Tiles are an investment in your property, and routine cleaning is essential to extend their lifespan. Ignoring cleaning allows dirt, grime, and stains to accumulate, which can erode the tile's surface and compromise its integrity. Regular cleaning prevents deterioration and ensures your tiles remain resilient for years to come.
Health and Hygiene: Dirty tiles provide a breeding ground for bacteria, mould, and allergens. These can trigger allergies, respiratory issues, and other health problems, especially in sensitive individuals. Proper cleaning eliminates these health hazards, creating a safer and healthier indoor environment for your family or employees.
Aesthetic Appeal: Tiles contribute significantly to the overall aesthetic of your space. Neglected tiles lose their shine, become discoloured, and develop unsightly stains. Regular cleaning maintains the original vibrancy of your tiles, enhancing the visual appeal of your home or business.
Slip and Fall Prevention: Accumulated grime and moisture on tiles can make surfaces slippery, increasing the risk of slip and fall accidents. Proper cleaning removes residue that can cause surfaces to become hazardous, ensuring the safety of everyone who walks on them.
Cost Savings: Postponing tile cleaning can lead to more severe issues that require expensive repairs or replacements. Regular maintenance is far more cost-effective than dealing with extensive damage later on.
Preserving Grout: Grout is prone to discolouration and deterioration when exposed to dirt and moisture. Regular cleaning prevents grout from becoming discoloured and extends its life, minimizing the need for regrouting.
Comprehensive List Of Tile Services We Provide In Newstead
Tile and Grout Deep Cleaning: Thorough cleaning of tiles and grout lines using specialized equipment and eco-friendly cleaning solutions to remove dirt, stains, and grime.
Natural Stone Polishing: Expert polishing of natural stone tiles to enhance their shine and remove scratches, restoring their original lustre.
Ceramic and Porcelain Tile Cleaning: Tailored cleaning methods for ceramic and porcelain tiles, ensuring effective stain and dirt removal without compromising the integrity of the tiles.
Grout Cleaning and Restoration: Deep cleaning of grout lines to eliminate embedded dirt and stains, followed by colour restoration if necessary.
Tile and Grout Sanitization: Disinfection of tiles and grout to eliminate bacteria, mould, and allergens, promoting a healthier indoor environment.
Stain Removal: Targeted removal of tough stains such as wine, coffee, ink, and more to restore the pristine look of your tiles.
Grout Sealing: Application of a specialized sealant to grout lines, preventing moisture absorption, staining, and the growth of mould and mildew.
Tile Surface Sealing: Applying a protective sealant on the tile surface to guard against stains, spills, and wear, while enhancing the overall appearance.
Regular Maintenance Recommendations: Offering guidance on the proper care and maintenance of sealed tiles to ensure longevity and optimal appearance.
Why Choose Us for Your Tile Cleaning and Sealing Needs In Newstead?
At Tims Tile Cleaning Brisbane, we understand that you have choices when it comes to tile cleaning and sealing services. However, we firmly believe that our commitment to excellence, expertise, and customer satisfaction sets us apart from the rest. Here's why you should choose us for all your tile cleaning and sealing needs in Newstead:
Expertise and Experience: With years of experience in the industry, our team of skilled professionals brings a wealth of expertise to every project. We have encountered a wide range of tile types, surfaces, and challenges, making us adept at delivering tailored solutions that yield exceptional results.
Customized Approach: We recognize that every tile surface is unique, and a one-size-fits-all approach doesn't suffice. Our services are meticulously customized to address the specific needs of your tiles, ensuring optimal cleaning and protection without compromising their integrity.
Advanced Techniques and Technology: We stay ahead of the curve by using state-of-the-art equipment, cutting-edge techniques, and industry-approved products. This allows us to deliver thorough cleaning, precise sealing, and impeccable finishes that transform your tiles.
Commitment to Quality: Quality is at the core of everything we do. From the moment you contact us to the final inspection of our work, we maintain the highest standards of professionalism, precision, and attention to detail. Your satisfaction is our ultimate goal.
Health and Environmental Considerations: Your well-being and the environment matter to us. That's why we prioritize the use of eco-friendly, non-toxic cleaning agents that effectively remove contaminants without posing health risks. Our practices promote a safe and healthy living or working environment.
Transform Your Tiles Today! Contact Us for a Free Consultation
Are you ready to witness the transformation of your tiles? Don't wait any longer – reach out to us today for a complimentary consultation tailored to your tile cleaning and sealing needs. Our team of experts is here to answer your questions, provide insights, and schedule a service that will leave your tiles looking pristine and protected.