Trust The Best Stone Polishing Brisbane Services At Affordable Prices
It is important to hire marble polishing services to restore the floor to its original shine and to repair the marble. Our Stone Polishing Brisbane team of experts is adept at removing scratches from the exterior surface of marble and other tiles. We have professionals trained and familiar with the ins and outs of handling stone polishing. Tims Tile Cleaning Brisbane are the trusted marble polishing service provider that always meets customer demands. You have the opportunity to make reservations in and around nearby Brisbane areas at reasonable prices.
Moreover, our Tile And Grout Cleaning Brisbane team ensures that Stone Polishing Brisbane and maintenance services are used flexibly. Additionally, we have the knowledge and skills to disseminate and implement cleaning and disinfection best practices.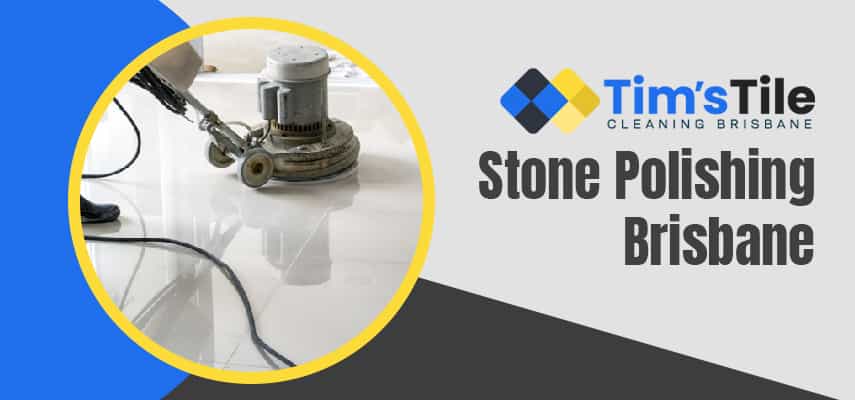 Our Stone Polishing Brisbane Process
The pre-surface inspection is the first step in the stone polishing process. Not all real stone tiles require the same care. You can give countertops and shower walls a brilliant shine without worry, but a qualified stone polishing company should polish stone floors to ensure the surface doesn't get too slippery.
Polishing and cleaning stone floors, counters, and other surfaces can be tricky. Therefore, it makes sense to take some time to prepare the workspace. Using plastic sheeting and blue tape to cover the areas around your natural stone tiles will protect your home from accidental damage or spillage.
Before polishing, stone surfaces should be thoroughly cleaned. Stone surfaces can acquire a dull patina if not cleaned properly. The floor should be swept and cleaned thoroughly. Stone and tile cleaners designed for your particular type of material can be used to clean showers, countertops, and other stone tiles and slabs.
Prior to polishing, stone surfaces that have been etched, scratched, and weathered should be restored. Unsightly damage to a stone can be quickly removed without compromising the stone's overall integrity by using a diamond abrasive pad on a rotary machine. Water is essential when diamond polishing to prevent dust from settling everywhere.
Burnishing is the mechanical restoration of a natural stone surface. Similar to diamond grinding, it uses water and a diamond abrasive pad. However, removing small pieces of the stone helps to give an even shine to the stone's surface. Travertine, polished marble, limestone, or granite may respond well to this method to remove the old shine.
Small spots and scratches can be removed from the stone's surface by grinding or polishing with nano-abrasive substances or powders. The surface will have a highly reflective shine if the stone polish is used in conjunction with a polishing pad with ultra-fine abrasive properties.
Benefits Of Stone Polishing
You can assume that the natural stone you have installed on your walls or floors is the best. You might be surprised to learn that polishing them to a brilliant shine will increase their durability even more. In fact, polishing stones improves your resistance to other problems, such as chips and scratches. It can handle both the big machines moving through it and the normal foot and car traffic that passes through it daily, so you don't have to worry about that either.
Extend life with proper maintenance
Although natural stones are strong and durable, the light-reflecting crystals on their surface tend to dull over time. In addition to repairing damage caused by wear and tear, polishing also restores an object's value and aesthetic appeal. Due to its long life, you won't have to worry so much about replacing the material. The benefits of polishing a marble floor are similar to those of polishing other natural stones. It is very important that you take steps to maintain the longevity of marble as it is one of the materials with a high price range.
This benefit is really for your own safety. Chipped or rough stones can cause trips and falls. Meanwhile, smooth or dirty surfaces can cause falls. Stones should be polished regularly to avoid similar accidents. The process required applying a non-slip coating to the tops of the stones, making them largely non-slip.
Why Choose Stone Polishing Experts From Us?
We constantly adhere to the ideal marble polishing service that will maintain a high professional standard as one of the most competent companies in the field of marble polishing.
One of the best marble polishing services we offer in Brisbane.
We promise to give you the best touch without sacrificing quality.
We have been dealing in marble polishing services for years. That said, we're sure the best way to polish your marble is to find a way to keep your floor nice and clean.
Reviews
Super Nice And Responsive
★★★★★
"
The cleaner from this tile and grout cleaning Brisbane company was super nice and responsive on the call, and even followed up to get a review from me after the results. He reached my place on time and did an incredible job cleaning the kitchen tiles. The cleaning solutions also smelled nice! I will surely be a returning customer!
"
Pleased With The Results
★★★★★
"
This tile and grout cleaning Brisbane team did a fantastic job cleaning tiles. The cleaning staff arrived on time and did a wonderful job. I'm pleased with the results and would use this company again. Thank you for the best services at reasonable charges. Highly recommended!
"
Cleaned The Grout And Finished The Floor
★★★★★
"
I am very happy with my entrance marble floor since your tile and grout cleaning Brisbane's team has cleaned the grout and finished the floor. He is a lovely person to deal with and works very hard to get results. I would recommend him to my family and friends. Thank you so much, guys!
"
Helped Clean My Tiles
★★★★★
"
The cleaner from this tile and grout cleaning Brisbane's team came to my place and helped clean my tiles in the two rooms in my condo. He is very professional and understanding and knows his trade. Decently priced too and no-nonsense. Hardworking guy and very reliable. I would recommend him to my friends and family. Good job guys!
"
Prompt And Accommodating Team
★★★★★
"
The cleaner was prompt and accommodating. He accommodated all our needs and ensured that he delivered great service. The hallway tiled area was thoroughly cleaned and at a very reasonable price, as promised and quoted. Would recommend this tile and grout cleaning Brisbane service!
"

Tims Tile Cleaning Brisbane
Location: Brisbane, QLD 4000 Australia
Call @ 07 3184 4632