Remove Marks And Blemishes On Your Marble: Call Experts From Tims Tile Cleaning
At Tims Tile Cleaning Brisbane, we have experts who can remove marks and blemishes on your marble. For a sparklingly clean and germ-free marble surface, trust our Marble Cleaning Brisbane service tried-and-true combination of modern mechanical scrubbing and safe chemical cleaning solutions.
Our professionals use cutting-edge, state-of-the-art technology to ensure the most thorough and efficient removal of all embedded dirt and bacteria. Our expert Marble Cleaning Brisbane service is readily available.
It is essential to treat each type of natural stone differently due to its individual properties and care requirements. Different types of stones have different densities; some are more porous than others, so they absorb liquids more readily than others. Technicians at Tims Tile Cleaning have the experience and knowledge to properly maintain your Marble, granite, slate, and travertine surfaces.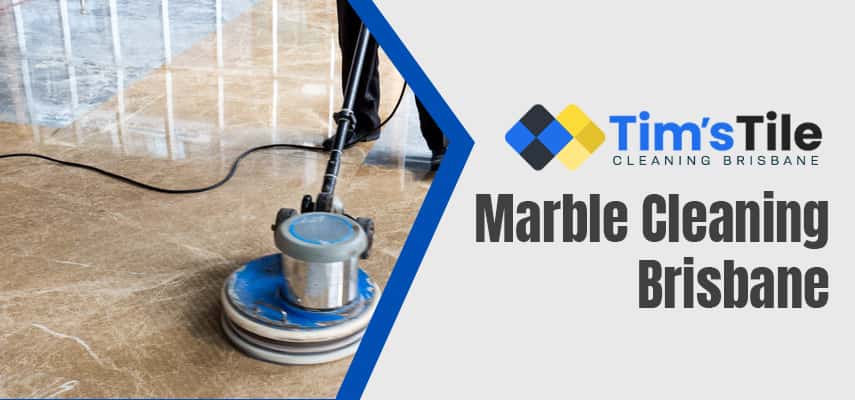 How Do We Clean Brisbane's Marble Floors?
1. You must use hot distilled water
A quick and easy solution for Marble Cleaning that may avoid the need for harsh cleaning solutions that could damage the Marble is to use hot water, which is fantastic for cutting through the filth. Since the minerals and other contaminants are eliminated during the distillation process, distilled water is an even more effective cleaning medium.
2. Use a mild detergent
The best method of Marble Cleaning is to use warm water and mild detergent (such as dish soap or pH-neutral soap) to clean the surface. Vinegar and citrus-based cleaners are acidic, so it's best to steer clear of those and other harsh chemical solutions.
3. Utilize marble-specific tools
Marble can easily be scratched, so it's best to clean it with a soft cloth or a brush with soft bristles rather than a scouring pad or firm bristles.
4. wash with clean, cold water
If there is any dust or grime that has to be removed, use a clean, soft cloth or towel to do it. Then use a soft, dry towel or microfiber cloth to quickly absorb any remaining solution or water. When necessary, switch to a fresh, dry towel or cloth. Marble can get water spots if you let it dry naturally.
Gains From Maintaining Clean Marble Floors And Walls
1) Elimination Of Marks
Marble cleaning procedures specifically address etch mark removal. Etching occurs when Marble is exposed to acids or alkalis, such as in some cleaning products. It is easy to etch Marble because it is a soft natural stone (calcium bicarbonate).
2. Solutions For Stains
Marble, unlike hardwood, vinyl, or laminate, can be stained despite its sturdiness. In this case, applying the proper cleaning products designed for Marble is crucial, as was previously discussed. Using inappropriate chemicals can cause many issues, including etch marks, grout discolouration, rust stains, etc. These blemishes and flaws can be repaired rapidly and effectively by a competent cleaning without further danger.
3. The enhancement of aesthetic appeal
Due to normal wear and tear, Marble can lose its lustre and general visual appeal over time. Marble is susceptible to damage from cracks, abrasions, and chips, but with routine care and upkeep, you can keep it in pristine condition for decades. Avoiding these problems will keep your Marble looking as good as new for as long as possible.
4. Efficiency in terms of cost
Treatment costs for severely worn and damaged Marble due to age might be high. If you follow Marble Cleaning regularly, you can save money that would otherwise go into restoring an area that has been severely damaged. In addition to saving you money in the long run, investing in skilled marble restoration will ensure that your investment is well-protected for the life of your home.
Why Should You Hire Us For Marble Cleaning Service In Brisbane?
If you choose our professional Marble Cleaning service, you can be assured that your Marble will be kept in pristine shape and given the care it needs to last for many years.
Cleaning stains properly requires specialized equipment and methods, which our expert service can provide. We can remove oil, coffee, and red wine stains, which may appear complicated to extract from any stone.
Our experts in Marble Cleaning provide marble restoration services and know how to keep Marble looking beautiful.
It is guaranteed to make every customer happy, no matter what! There will be no bother. When cleaning Marble, we promise only to use top-shelf materials that will produce flawless results every time.
More than three decades of experience offering Marble Cleaning Brisbane services in Brisbane.
The most obvious reason to choose our Marble Cleaning Team is your convenience. Consider hiring our team of professional tile and Grout cleaners in Brisbane.
Tims Tile Cleaning is Available in All of the Suburbs of Brisbane