Trusted Slate Tile Cleaning Brisbane Experts
Slate Cleaning Brisbane is a service that will restore the fresh and lustrous appearance of your natural slate tiles. If your slate floors have become dull and are no longer showing their actual colour, your old sealer is wearing off, or you would like to protect a new slate installation, this service is for you.
Your slate will be meticulously cleaned, and for years to come, it will continue to be safeguarded against future discolouration. Since slate is a naturally porous stone, it must be sealed to prevent stains from penetrating the surface.
The ideal choice is to use our high-quality equipment to clean and seal your slate tiles, regardless of whether you have just finished installing them or want to give them back their brand-new appearance. The specialists at Tims Tile Cleaning Brisbane are well-versed in all aspects of slate tile upkeep and restoration. Our extensive clientele includes everyone from individual homeowners to the proprietors of the largest shopping centres and hospitals, schools, and workplaces of all sizes. You may relax knowing that the tile grout cleaning and protection services are of the greatest possible grade.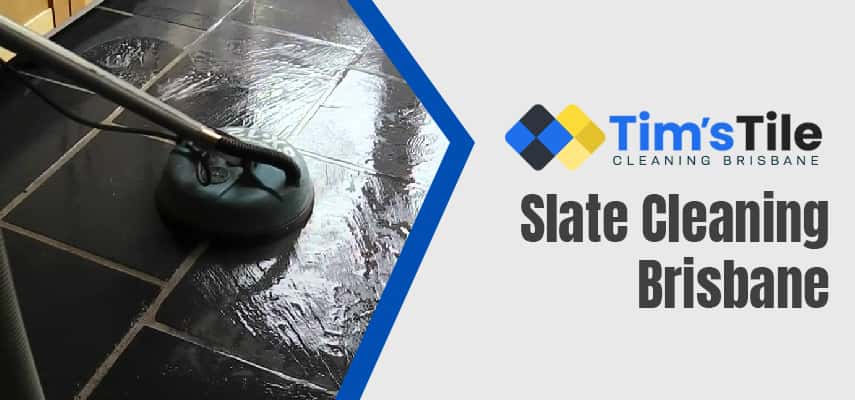 How Should We Go About Cleaning The Slate?
Every day, sweepers should be used on slate floors. It is especially true during the first few months following installation. Cleaning the slate tile floor with a mop and mild detergent is recommended. You can use a cleaning product designed specifically for washing natural stone or any other cleaning solution that does not contain lemon or vinegar. Ideally, it would help if you used a pH-neutral solution. Rinse with clean water, and then either allow it to dry naturally or pat it dry with a gentle towel.
Sealer must be applied to slate tile flooring once a year to maintain water resistance, prevent stains and scratches, and preserve its appearance. Slate, like the vast majority of other natural stones, is porous. Put some water on your slate tile's surface to determine whether it needs to be sealed. A sealer is required if the water leaves a darkish mark for more than ten minutes after removing it. Sealers need to be applied to certain slate varieties more frequently than others.
Slate Cleaning is indeed more susceptible to scratching than other flooring types. If a scrape does happen, you can try covering it up with a little dab of mineral oil to see if it helps. The slate that has been adequately sealed is resistant to stains, but if a colour does occur, you can use a poultice designed to remove stains from stone floors, sold in stores. You can also prepare your application by combining flour and hydrogen peroxide to form a paste. Apply it to the spot, then cover it with plastic wrap and let it sit for at least six hours or overnight. After that, you can take it off with a wet towel or a scraper that's not too rough.
Do Not Forget These Ever If You Have Slate Tiles
Protect the floor from heavy foot traffic by using rugs or mats.
Apply sealer once a year.
Mop the floor with a cleaning product that is pH neutral or one that is designed specifically for natural stone.
When going across the room, instead of sliding the furniture, you should carry it.
Benefits of Professional Slate Cleaning In Brisbane
Your tile will look its best if you get it cleaned professionally regularly. The longevity of your tiles can be increased by removing the unwanted dust and germs that accumulate on them.
With professional cleaning, the appearance of your house will be improved.
An essential benefit of having professional Slate Cleaning is that it helps remove potentially hazardous bacteria and moulds.
Prevent them from developing into a problem that could affect your health.
It will save you from having to replace the tiles, which will save you money.
Why Should You Choose Us For Slate Cleaning In Brisbane?
Our best tile cleaning company provides same-day service in Brisbane. If you want the service on the same day you booked it, you may take advantage of our same-day slate cleaning service.
Our professionals can assist you in any circumstance and offer the most effective solution possible for Slate Cleaning in Brisbane.
A cleaning firm specialising in Slate Cleaning in Brisbane.
In and around Brisbane, we are offering all types of slate cleaning services.
We have cleaners who have been licensed and trained.
Accessibility throughout Brisbane and the places immediately surrounding it.
Prices that are both modest and affordable, with a high level of service.
Twenty-five years of Tile Cleaning Services experience in the Brisbane area.
Tims Tile Cleaning is Available in All of the Suburbs of Brisbane
Reviews
Super Nice And Responsive
★★★★★
"
The cleaner from this tile and grout cleaning Brisbane company was super nice and responsive on the call, and even followed up to get a review from me after the results. He reached my place on time and did an incredible job cleaning the kitchen tiles. The cleaning solutions also smelled nice! I will surely be a returning customer!
"
Pleased With The Results
★★★★★
"
This tile and grout cleaning Brisbane team did a fantastic job cleaning tiles. The cleaning staff arrived on time and did a wonderful job. I'm pleased with the results and would use this company again. Thank you for the best services at reasonable charges. Highly recommended!
"
Cleaned The Grout And Finished The Floor
★★★★★
"
I am very happy with my entrance marble floor since your tile and grout cleaning Brisbane's team has cleaned the grout and finished the floor. He is a lovely person to deal with and works very hard to get results. I would recommend him to my family and friends. Thank you so much, guys!
"
Helped Clean My Tiles
★★★★★
"
The cleaner from this tile and grout cleaning Brisbane's team came to my place and helped clean my tiles in the two rooms in my condo. He is very professional and understanding and knows his trade. Decently priced too and no-nonsense. Hardworking guy and very reliable. I would recommend him to my friends and family. Good job guys!
"
Prompt And Accommodating Team
★★★★★
"
The cleaner was prompt and accommodating. He accommodated all our needs and ensured that he delivered great service. The hallway tiled area was thoroughly cleaned and at a very reasonable price, as promised and quoted. Would recommend this tile and grout cleaning Brisbane service!
"