Amazing Bathroom Tile Cleaning Hacks
Cleaning your home regularly will help you in many ways. It will save you from many diseases and also maintain your tile's health. Every tile must be cleaned regularly in order to maintain them. Bathroom tiles need special care as they can catch dirt and stains easily. The stains and dirt present in the grouts of bathroom tiles contain a lot of bacteria and germs. These can cause a lot of health issues for you and your family members. You can use natural cleaners to clean the bathroom tiles and if the stains are stubborn you can also hire professional tile cleaners. Read on to know about the best bathroom tile cleaning hacks. These hacks have been reviewed best for tile care and maintenance.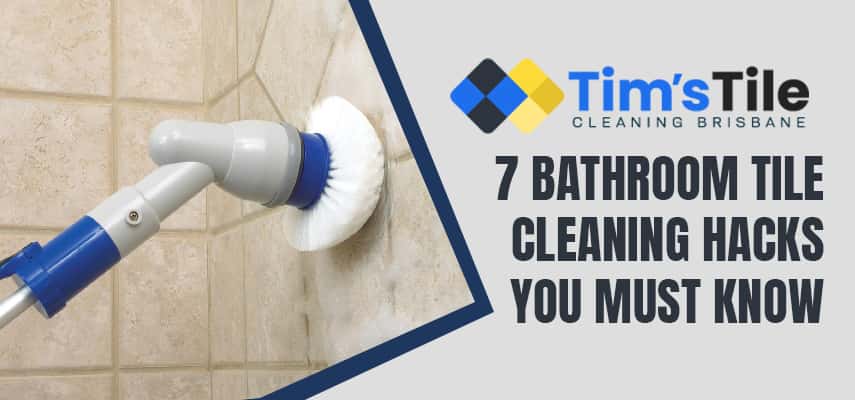 Here Are 7 Bathroom Tile Cleaning Hacks You Must Know:
1. Use Baking Soda As A Natural Tile Cleaner
Baking soda is one of the best natural tile cleaners used to remove all types of stains from the tiles. All you need to do is dip a damp sponge into the baking soda and scrub it over the stained areas. Later wash it with clean water or remove it using a vacuum cleaner. For better results, you can prepare a solution of baking soda with vinegar or lemon juice.
2. By Using White Vinegar
Using white vinegar is also one of the best bathroom tile cleaning hacks. It helps in removing stains as well as bad odour from the tiles. For this tile-cleaning hack, you need to pour equal amounts of vinegar and water into a spray bottle and wait for a few minutes until it settles down. Later scrub and clean the mixture using a sponge.
3. Hydrogen Peroxide
Hydrogen peroxide is a great whitening agent. It comes on the higher side and is much more effective than natural tile cleaners. This is one of the most effective bathroom tile cleaning hacks. To clean your tiles using hydrogen peroxide you also need white flour. To clean your tiles using this method, you must first make a paste of hydrogen peroxide and white flour and later spread it all over the tiles. Cover it using cellophane and leave it overnight. Later use a sponge to scrub it off.
4. Lemon Juice
Lemon juice is not only effective for cleansing your skin but it is also a useful solution for cleaning the tiles as well. It is a great natural stain remover. You will also require baking soda alongside lemon juice for better tile-cleaning results. Lemon juice binds with the stains and can remove them effectively. First, directly scrub the lemon directly on the spots and then sprinkle some amount of lemon juice and baking soda on a sponge and scrub it thoroughly all over the stains.
5. Salt
One of the best ways to get rid of moulds from your bathroom tiles is by using salt. It works best when the area covered by the stains is wet as it dehydrates the mould. You won't require any chemicals alongside salt for getting rid of mould from the tiles. This is the easiest bathroom tile cleaning hack. Firstly wipe the stained area using a damp cloth so the salt can stick better on the tiles. Later sprinkle salt on the tiles and scrub it over the stains, leave it overnight and scrub it once again.
6. Borax
Borax is also a highly alkaline product that is useful for cleaning, disinfecting and deodorising tiles. It can work as an alternative for salt and is one of the best bathroom tile cleaning hacks. You can just dip a damp sponge into the borax powder and scrub it all over the dirty stains until it is completely cleaned.
7. Vinegar
Vinegar is also one of the homemade solutions used for cleaning all kinds of tiles. It will help in getting rid of the stains as well as the odour from the tiles. Just mix equal amounts of white vinegar and water and pour it into a spray bottle, later spray it on the tiles and wait for some time. Later scrub it with the help of a sponge.
For Amazing Cleaning Results, Hire Professional Cleaners
Tile cleaning is not an easy job and requires a lot of hard work and patience. You might get less time to clean your tile so you can hire professional tile cleaners. They have all the best techniques and tools for cleaning all types of stains and dust from the tiles. Professionals can save a lot of your time and money as well. They use the right methods that are effective in cleaning all types of tiles.
If you are looking for the best tile cleaners in Brisbane, you can hire professionals from Tims Tile Cleaning Brisbane. We are amongst the best tile grout cleaning Brisbane companies who know about all the best bathroom tile cleaning hacks and other tile cleaning hacks. We have the best tile cleaning tools that are useful in removing all kinds of stains and spots from the tiles. You can give us a call now at 07 3184 4632 to get your service booked.