Porcelain Cleaning In Brisbane By Experts
Porcelain is a magnificent material. The porcelain surfaces in our bathrooms and kitchens are the best option since they are easy to keep clean and maintain and shine more than stainless steel. Using proper porcelain cleaning techniques will ensure that your property retains its pristine condition long. Knowing that you can solve any problem with our team can give you a sense of calm. We are a family-run business with 25 years' worth of experience in porcelain cleaning in Brisbane at prices you can afford.
Here at Tims the Best tile and grout cleaning company in Brisbane, we are to help you clean porcelain without spending a fortune on a professional Porcelain Cleaning service. Our professionals are here to assist you. You will receive your money's worth of service if you engage our experts to clean your tile grout and surfaces.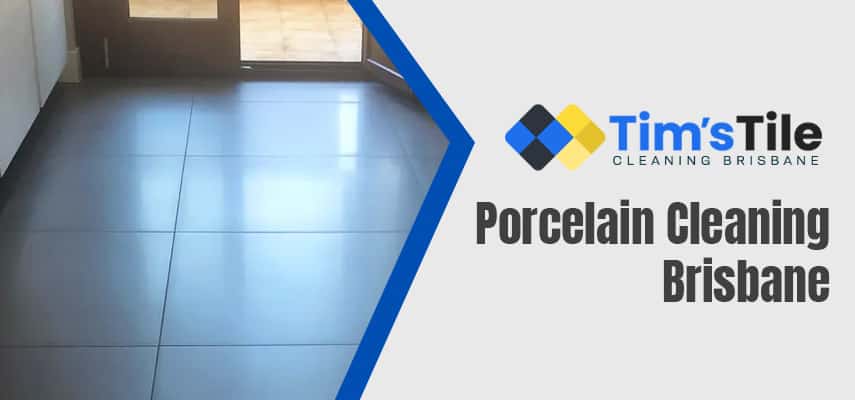 How Do We Do Porcelain Cleaning?
Use water to wash the porcelain
Remember how vital water is. It's the base ingredient in almost all cleaning processes and works wonderfully as a standalone cleaner. The great thing about cleaning with water is that it doesn't leave any potentially dangerous chemicals behind.
It's safe to use water, and it can remove stains or wash away a surprising amount of grime. You can always go right with water if you are looking for a safe and dependable weekly cleanser for your porcelain sink. Prepare a hot sponge and put on the gloves. Apply some pressure while wiping down porcelain surfaces to remove stubborn stains. Put your towel to work drying out your porcelain.
Dishwashing liquid is the way to go
Liquid dish soap is one of your best things for Porcelain Cleaning. Dish soap can be used for more than just washing dishes; it can also be used to make a DIY tub cleanser and eliminate fleas on kittens and puppies. Dish soap can be used weekly to get your porcelain looking brand new. The effectiveness of this no-frills cleanser on porcelain stains will astound you.
Use White Vinegar and Water to Clean Your Porcelain
Everyone who has dabbled in do-it-yourself projects knows about the miraculous cleaning powers of vinegar, indoors and outdoors. Many different types of vinegar-based bathroom cleaner recipes exist. Vinegar is acidic due to acetic acid, a weak acid that breaks down all kinds of organic matter. Vinegar is an excellent choice for Porcelain Cleaning in the bathroom or elsewhere in the home.
Use Baking Soda to Polish Your Porcelain
Regarding Porcelain Cleaning, baking soda, and vinegar are two of your best bets. Baking soda is a chemical cleaner and a mild abrasive, making it ideal for sparkling porcelain fixtures like the bathtub and the kitchen sink.
Use Hydrogen Peroxide to Bring Out the Gleam in Your Porcelain
Remove stubborn stains from porcelain and other surfaces using hydrogen peroxide, a proper household cleaner. Hydrogen Peroxide is just as effective as chlorine bleach, but it won't damage or discolour your tiles if you put it on them. Try using hydrogen peroxide as part of your weekly cleaning routine if you have filthy porcelain that gets a lot of use. It's an excellent method for Porcelain Cleaning.
The Advantages Of Porcelain Cleaning
These days, having a spotless home is a need.
Illnesses brought on by a lack of personal hygiene are thus avoided.
What's lovely is that it dramatically improves the property as a place to call home. And the finished tiles will have a nice appearance as a result.
As a result, your floor's condition would remain pristine for a more extended period. It's tempting to try cleaning every once in a while.
Why Choose Our Tile Cleaning Experts In Brisbane?
Tims Tile Cleaning Brisbane, where you may find our services, can provide same-day appointments for tile cleaning. If you need help on the same day you call, we offer same-day porcelain cleaning.
We employ high-quality cleaning solutions and tools designed specifically for this purpose. As a result, the grout and tiles will last much longer if you do it this way.
We have the tools and supplies to finish the job quickly and effectively. In contrast, if you decide to clean the grout and tile on your own, you risk doing damage by using faulty materials or equipment.
Cleaning can be time-consuming if you need the proper supplies. In addition, the quality of the end result won't match that of our professional's work.
Porcelain tile of any kind is cleaned by our experts in Brisbane.
Floor polishing, certified cleaners, and resealing for porcelain are all within easy reach in the greater Brisbane area.
Tims Tile Cleaning is Available in All of the Suburbs of Brisbane


Location: Brisbane, QLD 4000 Australia
Call @ 07 3184 4632