Choose The Best Travertine Cleaning Brisbane Services At Reasonable Prices
All natural stones enhance the look of your living space or workplace. But quality requires quality cleaning, maintenance and care. With this in mind, our team for Travertine Cleaning Brisbane is on a mission to improve and simplify your life. With over 25 years of experience serving thousands of homes and businesses, we are confident that we can handle just about any stone cleaning problem you may have.
Due to its inherent porosity, Travertine tends to develop new voids over time. More areas mean more opportunities for dirt to accumulate. Therefore, Professional Tile and Grout Cleaners can provide you with the best service possible, whether you want us to clean, repair a chip or fracture, polish a scratch or turn your Travertine into new anyhow.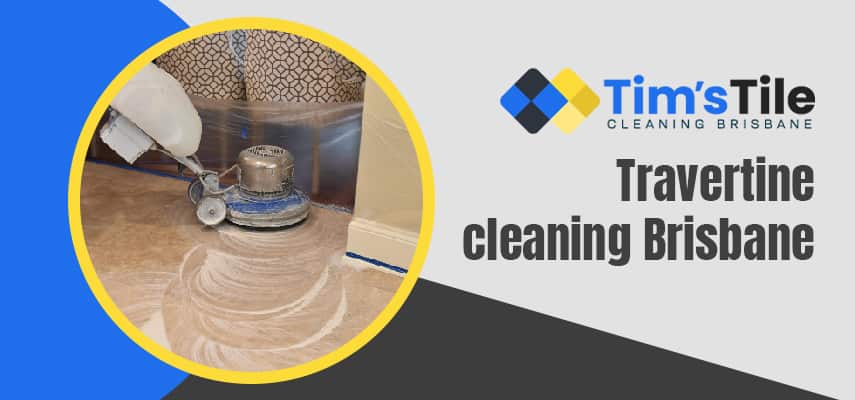 Our Process Of Travertine Cleaning In Brisbane
The first step is to sweep or vacuum dirt and debris from the floor. Combining a hard floor vacuum with a broom works great for removing heavy particles.
A small amount of clean water and a non-acidic floor cleaner should be added to the mop bucket. Clean the floor first by wringing out as much of the liquid as possible with a mop, as excess water can stain the stone. It's best to start at the top of a room and work your way down before exiting. If you do this, you won't be stepping on wet rock or adding new soil.
The grout may need some attention, depending on how long it's been since you thoroughly cleaned your travertine stone floor. To better reach grout lines without damaging or scratching adjacent stones, consider restocking your heavy-duty grout brush and replacing worn-out toothbrushes.
If you're not using a completely neutralizing product, consider mopping the floor with clean water one more time to get rid of any cleaner residue. (This may not be necessary if travertine floor treatment products are used.)
Once all stains and spills have been cleaned from the floor, you can use a dry cloth to wipe them down once more to remove any remaining moisture. You can also let it air dry as long as you don't walk on it until it dries. Otherwise, allow it to air dry before using a dry cloth to dry any remaining wet parts.
Before applying a suitable low VOC sealer to travertine stone every few years, make sure your floor is spotlessly clean and dry. To prevent liquids from penetrating the stone, sealers come in two varieties: penetrating sealers and surface sealers.
Benefits Of Having Travertine Floors
Moisture and water resistance
Water and humidity are particularly resistant to travertine floors. This helps keep any space where these tiles are placed free of mould and mildew. Also, since these tiles are often used in bathrooms and kitchens where mould and mildew spread quickly, they are a suitable choice for flooring.
Few materials can match the elegance and timeless appeal of travertine tiles. These tiles have a classic and distinctive look, contrasting with a worn look that gives them a distinctive quality. In fact, the stone is believed to have been made in early Roman times.
This type of flooring works well in almost any area, even in tight spaces or uneven terrain. Because travertine tiles are easy to shape and cut, they are suitable for all floor designs. Few other flooring options can be presented this way.
Different colours and finishes
Additionally, travertine tiles are available in a wide range of colours. When choosing the colour, customers can choose between shades of tan, brown, and beige or shades of white, gold, or rust red. Once the ideal shade has been chosen, homeowners can further customize their floors by choosing from various finishes. For example, travertine floors can be polished, textured, brushed, hammered, or polished, with each finish having a different appeal.
Like most natural stone floors, travertine tiles are incredibly hard and hold up well to the constant wear and tear of feet. Compared to marble in terms of hardness, this stone handles drastic temperature changes better than other varieties of stone. Due to its flexibility, it is a good choice for both indoor and outdoor situations. In addition, when properly maintained, tiles made from such a stone offer an excellent lifespan.
Why Choose Us For Travertine Cleaning In Brisbane?
Our work continually reflects our holistic understanding of every facet, nook, and cranny of our industry. Our staff follow all instructions strictly.
Our team is here to work with you for your benefit. We always have time for you, listen to your ideas, and respect your schedule.
There is no additional cost
We let you know what you're paying for when hiring us. We do not charge extra or raise our prices in the end.
Reviews
Super Nice And Responsive
★★★★★
"
The cleaner from this tile and grout cleaning Brisbane company was super nice and responsive on the call, and even followed up to get a review from me after the results. He reached my place on time and did an incredible job cleaning the kitchen tiles. The cleaning solutions also smelled nice! I will surely be a returning customer!
"
Pleased With The Results
★★★★★
"
This tile and grout cleaning Brisbane team did a fantastic job cleaning tiles. The cleaning staff arrived on time and did a wonderful job. I'm pleased with the results and would use this company again. Thank you for the best services at reasonable charges. Highly recommended!
"
Cleaned The Grout And Finished The Floor
★★★★★
"
I am very happy with my entrance marble floor since your tile and grout cleaning Brisbane's team has cleaned the grout and finished the floor. He is a lovely person to deal with and works very hard to get results. I would recommend him to my family and friends. Thank you so much, guys!
"
Helped Clean My Tiles
★★★★★
"
The cleaner from this tile and grout cleaning Brisbane's team came to my place and helped clean my tiles in the two rooms in my condo. He is very professional and understanding and knows his trade. Decently priced too and no-nonsense. Hardworking guy and very reliable. I would recommend him to my friends and family. Good job guys!
"
Prompt And Accommodating Team
★★★★★
"
The cleaner was prompt and accommodating. He accommodated all our needs and ensured that he delivered great service. The hallway tiled area was thoroughly cleaned and at a very reasonable price, as promised and quoted. Would recommend this tile and grout cleaning Brisbane service!
"