Professional Terrazzo Cleaning Services in Brisbane
Terrazzo is a one-of-a-kind, exquisite, and opulent material with a wide range of options for customization. Here at Tims Tile Cleaning Brisbane, our professionals can do it all regarding terrazzo flooring: repair, rejuvenate, ragout, restore, strip, clean, polish, and seal. We also offer Tile and grout steam cleaning in Brisbane at affordable prices.
Precast or poured terrazzo is a composite material. To create these tiles, a binder is combined with aggregates like marble, quartz, granite, glass, or other materials, and then the mixture is either poured or hydraulically pressed. It is possible to create a highly reflective and smooth finish on terrazzo by grinding and polishing the material. Floors and walls can both benefit from Terrazzo's versatile aesthetic.
Several hundred years ago, Venetians discovered a new purpose for discarded marble fragments by utilizing them to surface the terraces around their living quarters; the name "terrazzo" originates from the Italian word for decks.
Since then, terrazzo's popularity as a design material has skyrocketed, and it has become an excellent option for architects and interior decorators working in the modern building industry. The appropriate maintenance approach makes terrazzo easier to maintain, extends its life, and allows for recurrent refinishing.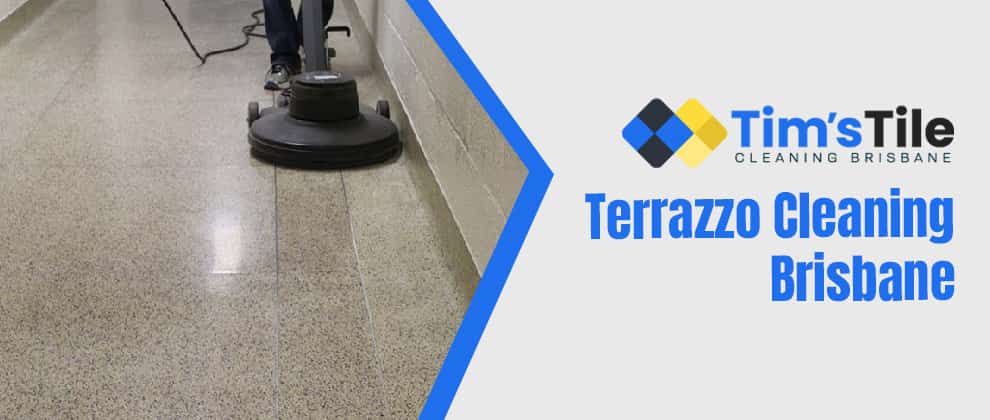 What Are We Doing To Maintain Terrazzo Floors?
Our terrazzo stone cleaning service uses cutting-edge, modern natural stone cleaning equipment to clean even the dirtiest floors and surfaces. We can carefully restore your terrazzo surfaces to their original beauty by removing unsightly stains and markings.
Smoothing And Polishing Terrazzo Stones
The terrazzo flooring in your home will appear like new once we use our high-powered polishing equipment to give them a brilliant shine. A dazzling, reflective sheen can be achieved on terrazzo by polishing the surface. To grind and hone to perfection, we employ fine diamond abrasives. Floors that have been polished are immediately more aesthetically pleasing.
Restoration Of Terrazzo Floors And Countertops
Using our service, you can quickly repair any damage to your terrazzo floors, such as cracks, chips, dull spots, or scratches. If you have invested in terrazzo flooring, you want to save it. Please make the most of your terrazzo surfaces by having us repair any damage. When you can call us, there's no reason to get new terrazzo flooring.
Application Of A Sealant On Terrazzo Stones
Keep liquids and grime from seeping into the stone, and seal your terrazzo surfaces with our professionals. By preventing corrosion, sealing will extend the life of your terrazzo floors. When sealing terrazzo floors, it's crucial to choose the right product. In addition to being less effective, topical sealers eventually become flaky, lose their colour, and are difficult to remove, not to mention hazardous. Terrazzo floors should be sealed with a high-quality deep penetrating water-based non-slip sealer. Sealers are also used to reduce the risk of slips and falls.
Tile can be returned to its original state by stripping, scouring, and cleaning to remove the previous sealant and its residue. The tiles are now ready for a fresh coat of sealant.
Finishing Work On Terrazzo By Polishing
Do you want a polished appearance for your flooring at home or in the office? You can stop looking now that we provide expert polishing services that leave your floors appearing modern, resilient, and with minimal maintenance.
Roughly Chopping On Stones
Our Terrazzo Cleaning Brisbane experts can grind, hone, and polish stones to your specifications. Marble, granite, sandstone, limestone, terrazzo, slate, onyx, and travertine are just a few of the rocks we can work on.
The Advantages Of Terrazzo Floors
Terrazzo is a beautiful, long-lasting, and affordable flooring option that may also be used to make a great first impression. This enables the easy, noiseless movement of rolling carts, wheelchairs, gurneys, and luggage and might be crucial in certain institutions.
Terrazzo is impervious to the growth of bacteria and other microorganisms. It can be cleaned with a simple damp mop and neutral chemicals that won't leave any offensive scents behind.
As a result of its durability and ability to withstand heavy use, terrazzo is frequently installed in high-traffic areas and given a high gloss.
Why Should You Pick Us For Cleaning Terrazzo Flooring?
Tim's Tile Cleaning Service specializes in cleaning, honing, polishing, resurfacing, stripping, and sealing terrazzo floors. You've arrived at the ideal place if you're looking for guidance on restoring the surface's like-new appearance. If your base in Brisbane needs cleaning, sealing, or resurfacing, don't hesitate to contact our specialists! We send out one of our skilled technicians who will return your floor to its original condition. it is possible with our:
25 years of experience in the field
Top-notch setups
Individual attention
Consultation and test grinding of floors performed on-site
Services that fit your needs and go with the flow
Budget and costs are comfortable for all homeowners
The team that is certified for these works
Tims Tile Cleaning is Available in All of the Suburbs of Brisbane