Tile and Grout Cleaning in New Farm: Improve Cleanliness with Tile and Grout Cleaning New Farm
Embrace the charm of New Farm while ensuring your tiles and grout retain their immaculate appearance. Our tile and grout cleaning services are uniquely designed to cater to the distinct needs of this vibrant suburb. From revitalizing historical buildings to enhancing modern spaces, our thorough and effective cleaning techniques are tailored to bring out the inherent beauty of your tiles and grout.
Our top-quality tile and grout cleaning services in the captivating suburb of New Farm and its neighboring areas can help you a lot. We are dedicated to bringing back the radiance and freshness to your living and working spaces through our specialized cleaning solutions.
Why Choose Us?
We offers an unparalleled level of service that sets us apart. Here's why we are the preferred choice:
Expert Technicians: Our highly skilled technicians have years of experience in tile and grout care. They are trained to handle various types of tiles and grout, ensuring a tailored approach to each job.
State-of-the-Art Equipment: We use cutting-edge equipment that combines powerful cleaning with gentle care, preserving the integrity of your tiles and grout.
Eco-Friendly Solutions: We care about your health and the environment. Our cleaning products are eco-friendly, ensuring a safe and responsible cleaning process.
Customer Satisfaction: Your satisfaction is our top priority. We work diligently to exceed your expectations, providing exceptional results and a seamless customer experience.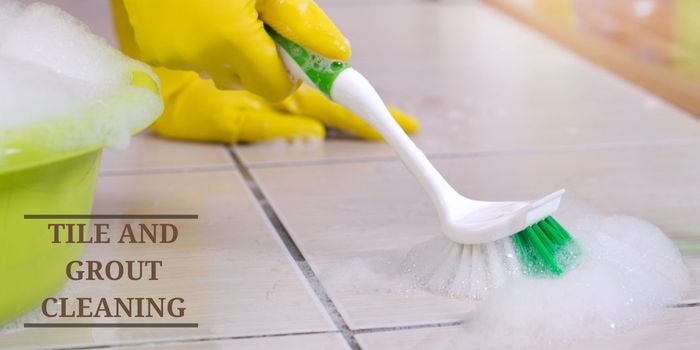 How Is Our Expert Team Different?
Our technicians are not only highly skilled but also share a genuine commitment to achieving remarkable outcomes. With an unwavering dedication to excellence, our team ensures that your tiles and grout receive the care and attention they deserve.
Our Tile And Grout Cleaning Services In New Farm
Explore our comprehensive range of services tailored to elevate the appearance and hygiene of your tiled surfaces:
Comprehensive Tile and Grout Cleaning: Our meticulous cleaning process targets stubborn stains and deep-seated dirt, restoring the original allure of your tiles and grout.
Grout Sealing and Protection: Safeguard the integrity of your grout with our premium sealants, preventing future staining and extending the lifespan of your surfaces.
Mold and Mildew Treatment: Our specialized treatments effectively eliminate mold and mildew, fostering a healthier environment and preventing their recurrence.
Epoxy Grouting: Enhance the longevity of your tiles and grout with our epoxy grouting services. Epoxy grout is known for its durability and resistance to stains, making it an excellent choice for high-traffic areas.
Deep Stain Removal: Stubborn stains are no match for our specialized deep stain removal techniques. Whether it's wine, oil, or other challenging stains, we have the tools and expertise to tackle them effectively.
Get A Free Quote Today
Feel free to reach out to us at any time for inquiries or to schedule our services. Connect with us through @07 3184 4632. Your satisfaction is our priority, and we look forward to assisting you in revitalizing your spaces with our expert tile and grout cleaning solutions in New Farm.