Discover how professionals effectively clean grout and restore the beauty of your tiles
Get complete details and solve all your queries for How Do Professionals Clean Grout? Learn the techniques and benefits of hiring a local tile and grout cleaning service for a cleaner, healthier home or office.
The tiles and grouts in your homes are much more difficult to clean than carpets and rugs. When the tile on the walls, backsplash, and floors is filthy and black, the look of your house suffers. Instead of attempting to repair this yourself, seek a tile grout cleaning service in your region.
Meanwhile, if you're having trouble getting your grouts to seem clean and white again, you've come to the right place. In this article, our Residential tile and grout cleaning professionals teach you about How Do Professionals Clean Grout? and how you can use them in your own house.
Introduction: How Do Professionals Clean Grout?
Cleaning tiles and grout can be challenging, but professionals have the expertise to tackle the task effectively. In this guide, we will explore the methods used by professionals to clean grout and provide you with a cleaner living or working space.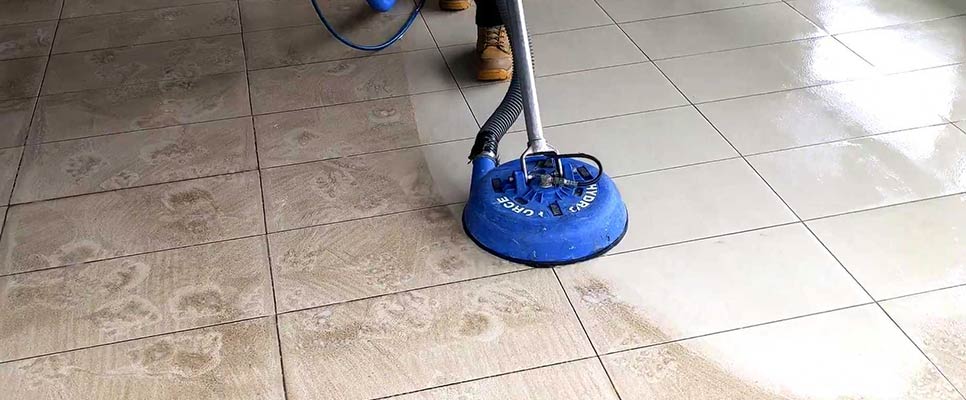 1. Sources of Grout Stains
Understanding the sources of grout stains is crucial to combat them effectively. Discover how dirt and grime accumulate in the grout lines between tiles and why professional assistance is the best solution
The stains and filth washed out of your tiles are what make your bathroom or kitchen grout seem dingy and dark. All of the dirt that you wash off your tiles will ultimately accumulate in the grout lines that run between them.
The porous nature of the grout also contributes greatly to the time and effort necessary to clean it. As a result, having a local grout cleaning company come to your aid is your best choice.
2. Cleaning Your Tiles and Grout Will Benefit You
If you do not clean your tiles and grout, mould, mildew, and bacteria may grow and pose health dangers to you and your employees. The major benefit of investing in professional grout steam cleaning services on a regular basis is having a cleaner, healthier home or office.
Our steam cleaning method makes use of hot water under pressure and ecologically safe cleaning products. Even the most stubborn grime and stains may be washed away from your tile and grout using this method.
Furthermore, by taking the effort to protect and clean your tiles and grout, you restore the elegance and beauty of your bathroom, kitchen, or other tiled area. It also preserves your tile grout and ceramics in excellent condition for a longer time.
3. Ceramic Tile Cleaning
You may use these instructions as a reference to clean your ceramic or porcelain tiles on your own.
Sweeping or vacuuming your tiles to remove any loose dirt or filth.
After using a neutral or adequate cleaning solution, mop your tiles or use a scrub brush to remove dirt and grime.
Use a steam cleaning approach to clean your tiles.
Tiles may be dried naturally or with the assistance of an electric fan.
Strong bleaching chemicals or acidic solutions may discolour and dull floor tiles, so avoid using them while cleaning them. Fortunately, our crew has been trained to apply the appropriate cleaning solution for each kind of tile.
4. Grout Cleaning Instructions
Discover the benefits of regular tile and grout cleaning, including preventing the growth of mold, mildew, and bacteria. Professional grout steam cleaning services ensure a cleaner and healthier environment for you and your family or employees. To learn about How Do Professionals Clean Grout? follow the instructions below:
Surface debris and grime should be scraped or washed away from your grouts. Get a nonabrasive cloth and some hot water to accomplish this.
To create an efficient grout cleaner, use baking soda, hydrogen peroxide, and dish soap.
Your house's unclean grouts need a large amount of your homemade cleaning solution. You should wait at least 10 minutes before touching it.
An old toothbrush may be used to clean the grout. You must brush it hard enough for it to move.
Simply use water and a rag to clean.
The experts have all undergone rigorous training and are given high-quality, ecologically safe tile and grout cleaning products and equipment. Professionals can also seal your grout to prevent stains from seeping in.
5. Advantages of Hiring a Professional Cleaning Company
Cleaning your tiles and grout on a regular basis to remove surface particles is acceptable. Here are some of the numerous benefits of hiring a professional tile cleaning service over doing it yourself:
Incredible savings in terms of work and time invested.
A thorough cleaning yields an effective final result.
Reasonable costs
Eco-friendly cleaning supplies
Keeping your house and workplace clean
Maintaining the perfect condition of your Tile
7. Experts Can Assist You!
Grout cleaners can clean your tile and grout at the most affordable price. Professional treatment is provided by experienced, verified, and insured specialists who will clean your tiles swiftly and thoroughly.
Please do not hesitate to contact experts for free consultations and scheduling. Professional cleaners will be pleased to assist you with How Do Professionals Clean Grout?
8. Conclusion: How Do Professionals Clean Grout?
Professional grout cleaners are trained and equipped to deliver exceptional results. Maintain the perfect condition of your tiles and grout by relying on the expertise of experienced professionals.
Don't hesitate to contact experts for free consultations and scheduling. Let professional cleaners assist you in achieving cleaner, brighter grout.