Hacks Your Way to Clean Grout: Best Techniques for Effortless Grout Cleaning
Are you weary of the grout haze? It is understandable that you feel anxiety when you have made the utmost effort to clean the grouts. Now, you may think that you have cleaned the floors and wall grouts with efficiency. However, the hidden dust particles and debris can challenge your efforts. Over the passage of time, dust, debris, and grime accumulate and lead to unhygienic conditions. Moreover, these can also hamper the aesthetic beauty of the room. That is why knowing some simple Grout Cleaning Hacks For Beginners.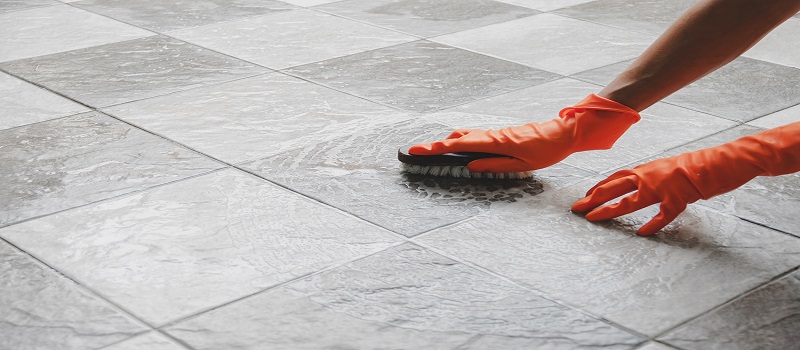 Grout Cleaning Tips for Enthusiastic Cleaners
There are several ways that you can get rid of the dirty grout. Check out the tips compiled here so that you can start cleaning right away.
The simplest method to clean grout is to warm up some water and purchase a brush with stiff bristles. Now, spray the water over the grout and use the brush to scrub off the dirt. After that, you need to let them dry.
Apply warm water and vinegar
Are you tired of seeing the dirty grout lines? Using the solution of warm water and vinegar, you can now clean the tile with ease. Take an equal proportion of warm water and vinegar and pour the mixture into a spray bottle. Now, spray the solution over the grout and wait for at least five minutes. After that, you can start the scrubbing.
Opt for vinegar and baking soda
To get rid of stubborn dust and dirt particles, you can use the powerful combination of baking soda and vinegar. For this, firstly, make a paste of water and baking soda. After that, take a brush and use it on the grout lines. Now, you can spray a vinegar solution over the paste. To make the vinegar solution, take equal quantities of both warm water and vinegar. Now, you will see foaming, and you have to wait. Once that stops, you can use a brush for scrubbing and then rinse it off with water.
If you have a nasty grout that resists all cleaning attempts, you can choose oxygen bleach. Mostly available in the form of powder, these grout cleaners are relatively popular. These are easily accessible and easy to use. However, you must use this in a well-ventilated area and follow the manual rigidly. In most cases, you must let the oxygen bleach sit for 10-15 minutes. After that, you can use clean water for rinsing the grout.
Do you have extremely dirty grouts that just can't seem to be clean? Well, in that case, you can opt for chlorine bleach. Chlorine bleaches are wonderful grout cleaners and can remove the most stubborn dirt and dust build-up. However, before you use this approach, make sure that the grout is devoid of any other chemicals. Keep in mind even traces of vinegar can react violently with bleach, leading to the formation of chlorine gas, which is highly toxic.
For grouts that have stains, hydrogen peroxide is an excellent answer. Moreover, these are available in almost all drug stores. Now, there are ways that you can adopt this method. You can use it directly and clean the grouts. However, you can also create a paste by mixing hydrogen peroxide and baking soda. Ultimately, it will help you to clean the grouts with ease.
Go the steam cleaning route
One of the most effective ways to clean grout is to use a steam cleaner. Keep in mind that with steam cleaning machines, you don't have to rely on harsh chemicals. That way, you can enhance the longevity of the grouts. However, you must conduct extensive research before making a purchase. Remember that you are buying for residential prospects and choose accordingly. Moreover, you must also consider the purposes and see if you need a multi-purpose model or not.
Do You Want To Hire Professional Grout Cleaners? Get In Touch With Us Now!
There are various Grout Cleaning Hacks that can lead to dirty and stained grout. However, it is your responsibility as a homeowner to ensure that they remain clean. For this, you can opt for some easy cleaning tips. However, if these tricks don't work out, you must call in the experts. Keeping the grouts in filthy condition can cause an extensive level of damage to them.
Tims Tile Cleaning Brisbane is a well-reputed tile and grout cleaning company. Our team of professional tile and grout cleaning in Brisbane has immense knowledge and can offer top-rated services. Moreover, we use the latest machinery and eco-friendly solutions. You can rely on us to clean your grouts with ease. Furthermore, we are open 24/7 and charge attractive price rates. To book our services, just give us a call!