What Are the Benefits of A Professional Tile Cleaning
Cleaning grout and tiles is a chore that no one enjoys. This is the task that is always put off. What do most people feel they are capable of doing on their own? It is generally known that tiles may boost a building's visual value. But if you don't take care of your tiles, their beauty will disappear quickly. I understand how difficult and agonising tile cleaning can be. However, you should not spend your time or money trying to do it yourself. You can pay someone to do it for you! Professional tile cleaners will not only clean your tiles but will do it efficiently as well. Tiles readily gather dirt and bacteria, so having them professionally thoroughly cleaned is necessary. Have we misplaced you? Here are 5 Benefits of A Professional Tile Cleaning.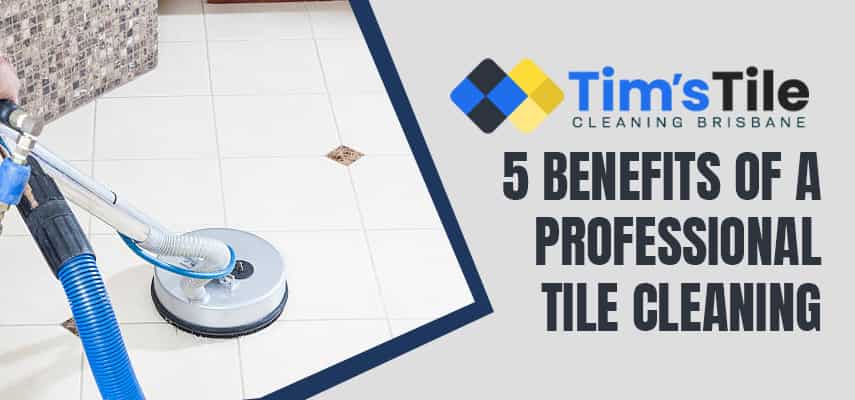 1. It Removes Stubborn Grease And Germs
First and foremost, professional tile cleaning removes the ingrained filth and bacteria that DIY solutions leave behind. Indeed, we are unrelenting in our insistence on utilising this specific word.
It's quite unlikely that what's going on has slipped your notice. DIY tile cleaners, on the other hand, can only remove the most evident remnants of filth. The bacteria that are hidden deep inside your tile and grout will be tough to reach with a scraper.
Professionals have the instruments necessary to remove any stain from your tile and grout. So, although we hate having to tell you this, all your hard work scrubbing the floor for hours has been useless.
2. Prevention from Future Stains
"How does getting my tiles professionally cleaned prevent more stains?" you may question.
Before we get into the intricacies of the second half of your question, we'll define "grout sealing." Grout sealing protects the grout from future deterioration by making it impermeable to water, moisture, and bacteria.
Ceramic tiles are often used in wet areas such as bathrooms. Grout, as a result, rapidly collects dust, bacteria, and liquid stains. As a result, engaging a professional grout sealing service is strongly advised. This sealant, in addition to protecting the grout, may be reapplied as required. It's a major benefit to attain the benefits of professional tile cleaning.
3. Healthier Household Atmosphere
Everyone wishes for a safe, healthy home. Many homeowners, however, inadvertently expose themselves and their families to allergens and microorganisms that may lead to severe sickness. Tile floors take a hammering from heavy foot traffic, so it's no surprise that they become a breeding ground for bacteria and food detritus.
Bacteria that may form in dirty tiles and grout can harm you, your family, and your pets. Tile cleaning services are an excellent approach to removing germs and germ growth. As previously stated, grout sealing functions as a barrier against the transmission of germs. The improvement in air quality isn't the only advantage of having your tiles professionally cleaned.
4. Commercial Cleaning Products Used By The Professionals
Tile and grout cleaning services, it should come as no surprise, exclusively utilise industrial-level chemicals. Unfortunately, the utility of such goods is often decreased.
Standard remedies in the industry get the greatest results. It is true that nothing on the market compares to the quality of homemade treatments. We've witnessed personally how tough it can be for homeowners to find a really effective tile cleaner. To soothe your mind, remember that you are not alone; we have all been there. This is why hiring a professional to clean your tiles is such a smart idea. They are well-versed in the proper use of each product.
Washing tiles is a pleasure with the aid of skilled tile cleaners. They have the necessary knowledge and equipment to do the task successfully.
If you've ever cleaned your own tiles, you're familiar with the delightful feeling they leave on your bare feet. That lingering, stickiness? The good news is that the tools and procedures used by tile cleaning professionals will not leave any sticky residue behind. The floor is totally dry, so you may resume your normal routine without further disruption.
5. It Increases The Value & Appearance Of Your Home
Nobody minds giving their home a makeover every now and again, right? Nothing matches the sense of success you receive after completing a large job around the house and finally being able to relax and take it all in. I suppose it's reasonable to assume that we all appreciate the wonderful sense of going home to a clean house.
When you have a professional clean your tiles, the experience is heightened. Professionally cleaned tile and grout may seem as good as new.
Because of the specialised equipment and skilled specialists used by professional tile cleaning Brisbane services, you may obtain the best results for your home.
Professional Tile & Grout Cleaning You Can Count On
Hopefully, you can see why it's critical to get your tile and grout professionally cleaned. A professional tile grout cleaning service can make your tiles seem cleaner, brighter, and healthier.
Learn more about tile and grout cleaning services by directly reaching out to tile cleaners near you. Feel free to contact a tile cleaning company and their experts will see what can be done best for your tiles. And attain the feasible benefits of professional tile cleaning. You can read our useful 7 Bathroom Tile Cleaning Hacks You Must Know, which can help to clean & hygiene your bathroom tiles longer.